Management of Small Business Participation on the 11th Street Bridge Project Part I of II: Design-Build Approach and OCR Compliance
07/20/2020 | BTG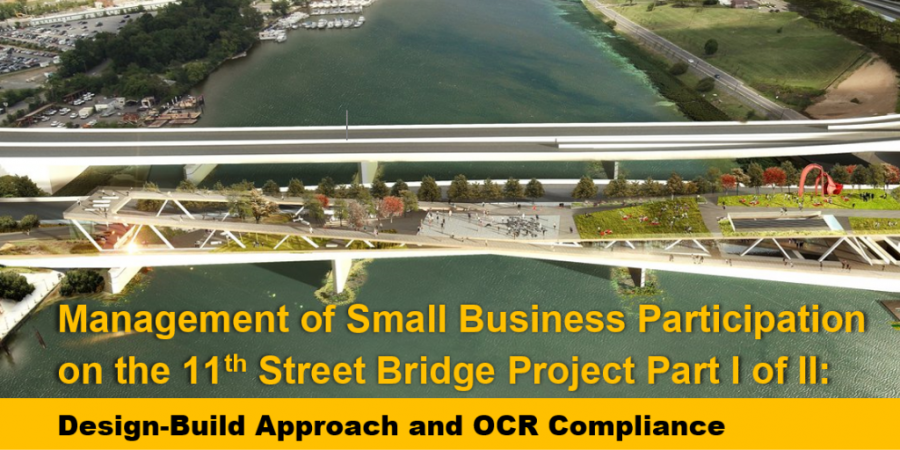 INTRODUCTION
By far the largest District Department of Transportation (DDOT) project completed to date, the 11th Street Bridge Project in Washington, DC was critical to improving travel and achieving the larger vision of the Anacostia Waterfront Initiative (AWI). The two-phased project replaced two bridges built in the 1960s with three bridges that separated local and freeway traffic. The freeway bridges also provide connections between 1-695 (also known as the Southeast-Southwest Freeway) and DC-295, a 14-foot-wide pedestrian and bicycle sidewalk on the local bridge that connects to the Anacostia Riverwalk Trail, drainage and other environmental investments to treat all storm water within the project area, an additional evacuation route, and design accommodations for the future streetcar system.
Part I
Design-Build Project Delivery Stages; Project Management Office (PMO) Approach
To encourage innovation and address financial constraints, DDOT used a design-build procurement method intended to reduce cost, allow for an accelerated construction period, and increase efficiency. As a result, DDOT cut $100 million in cost and five months of construction activity.
The design-build procurement method changes the traditional sequence of work. It creates a single point of responsibility to reduce risks and overall costs. However, most small and disadvantaged construction contractors have established and organized their businesses around a traditional design-bid-build procurement method – where a complete set of drawings and specifications are provided prior to construction activity and the process influenced by various interpretations accordingly. To increase the rate of success of these businesses – also referred to as Disadvantaged Business Enterprises (DBE) – and help meet project utilization goals, DDOT's Office of Civil Rights (OCR) provided counsel and guidance on issues facing the DBE and local small business community.
As shown in the project development image below, BTG's PMO plan for the 11th Street Bridge project has three main stages: Pre-Construction, Construction and Close-out. While the project moved through construction stages, the Program Management Team (PMT) switched its focus to provide optimal support. This methodology sufficiently addressed the two phases of the project progressing differently.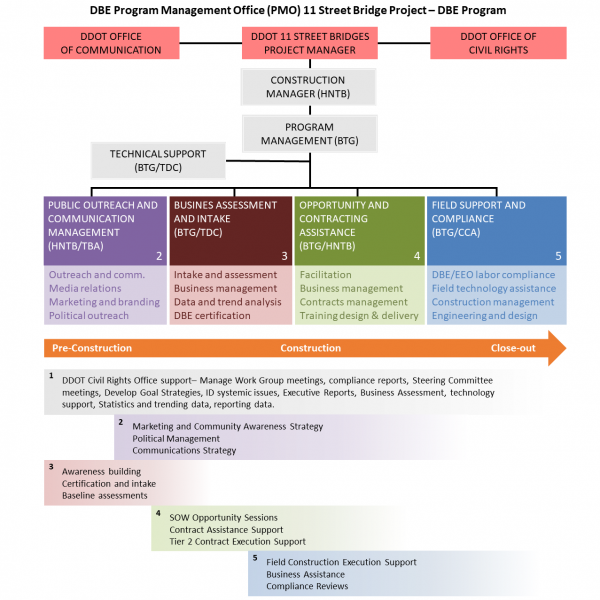 (Click image to enlarge)
DESIGN-BUILD / P3 PROJECTS REQUIRE A PROGRAM APPROACH TO MEETING FEDERAL REQUIREMENTS
A strategic partnership between DDOT, the construction manager (HNTB District of Columbia) and prime contractor (Skanska-Facchina Joint Venture) was established to work towards 15% construction and 6% design DBE goals.
Midway through the project, problems arose with accurately monitoring the DBE program and progress towards the established goals. HNTB requested Business Transformation Group (BTG) to lead of a Program Management Team (PMT), of which BTG created. HNTB also separately contracted with Capitol City Associates, Inc. (CCA), Telecommunication Development Corporation (TDC), and Tina Boyd & Associates (TBA) and assigned them as support to BTG. BTG brought on Capitol Management as its subcontractor to focus on DBE field support. This PMT augmented DDOT's Office of Civil Rights (OCR), who operated in close collaboration with the Federal Highway Administration (FHWA). The PMT also assisted the prime contractor, Skanska-Facchina Joint Venture (SFJV), to identify qualified DBE companies, increase the participation of residents, and administer an effective compliance program.
The PMT successfully implemented the DBE program on the 11th Street Bridge Project. Oversight and coordination efforts with all stakeholders resulted in the achievement of contract goals, enthusiastically embraced outreach efforts, and compliance requirements that were properly identified and monitored consistently. The PMT analyzed a significant amount of historical project data, properly coordinated previously submitted information, and recommended proper interpretation and enforcement of 49 CFR Part 26 as well as other pertinent Equal Employment and Opportunity/Labor standards.
Restructuring the Agencies organization to create additional support, such as the PMT, allowed DDOT the ability to engage with all stakeholders consistently on key compliance matters in a way that everyone was successful.
Mid-Course Correction – Set-up for Larger Goals
The first order of business for BTG was to establish a program management approach which was called a "Four Pillar Approach." These four pillars were used to organize a plan of action through bi-weekly Work Group sessions with all key parties involved, establish a baseline for current state. and set a path for establishing a larger goal in Phase II with confidence.  The following four pillar approach was used to accomplish these objectives successfully:
1. Establish Public Outreach and Communication Management
2. Business and Awareness Intake
3. Opportunity and Contracting Assistance
4. Field Support and Compliance
Critical project compliance conditions necessitated a swift and primary focus of the PMT on compliance-related concerns in the work plan at the start of the project. BTG led the effort for DBE payment participation and preparation. This required immediate and constant attention. BTG then led the PMT in shifting its focus to working closer with the SFJV to increase the probability of closing the greater-than-$1M gap between documented and acceptable payment participation figures that where available in Phase I. It also focused on developing a viable plan to successfully meet the larger goals set for the Project Completion Phase.
Over a 3-year period, the BTG-led PMT successfully implemented the following work plan accomplishments that resulted in related benefits/impacts: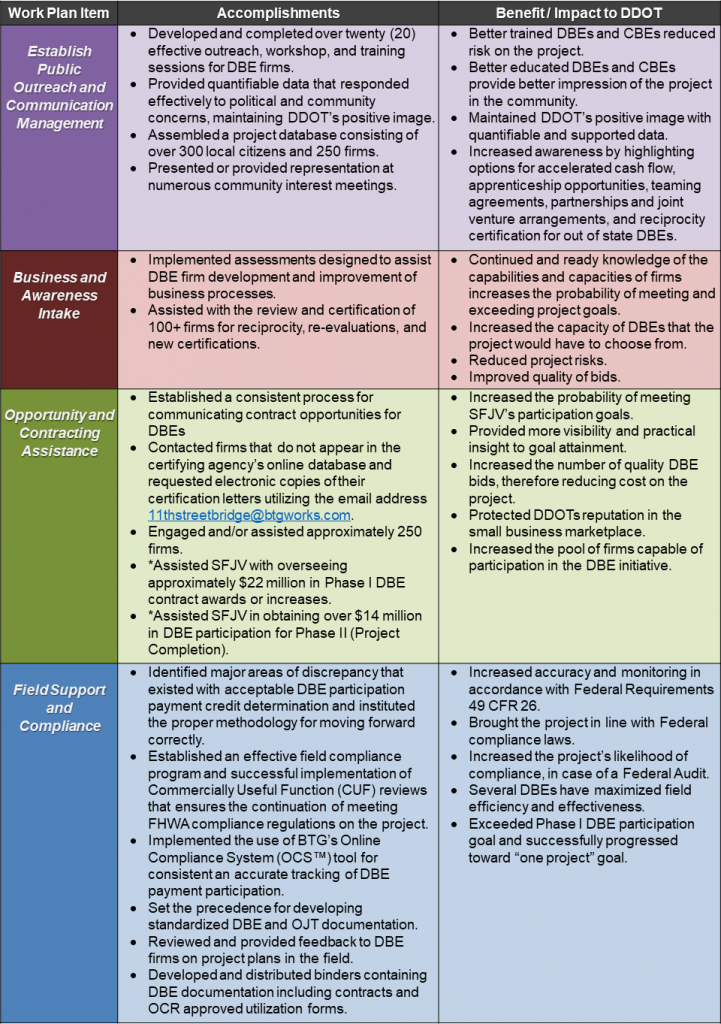 (Click image to enlarge)
Multiple accomplishments achieved on the 11th Street Bridge project influenced the creation of DDOT's DBE Contractor Compliance Process Guide. BTG's project management practices and activities, such as the DBE Steering Committee, Statement of Work (SOW) Opportunity Sessions, and the utilization of the Online Compliance System (OCS™) highlighted the concept of effectiveness and efficiency communicated by the guide.
Read Management of Small Business Participation on the 11th Street Bridge Project Part II of II: Successfully Meeting Agency Strategic Objectives here.
About DDOT: The District Department of Transportation (DDOT) is committed to achieving an exceptional quality of life in the nation's capital through more sustainable travel practices, safer streets and outstanding access to goods and services. Central to this vision is improving energy efficiency and modern mobility by providing next generation alternatives to single occupancy driving in the city.
About BTG: At BTG, we provide turnkey solutions that minimize risk and optimize the inclusion of small businesses on large, complex projects. Headquartered in Washington D.C., our management consulting firm is established as the preferred partner to lead inclusion programs for multi-billion-dollar construction projects and P3 initiatives. We work with public and private sector clients of all sizes to ensure that compliance requirements are met and apply exclusive technology tools and methodologies to cultivate the use of small businesses, so all operate at peak performance. To learn more about BTG, please visit www.btgworks.com.