Part 3 of 3 – A New Approach – Partnership Strategies and Collaboration
03/30/2017 | Joseph Lewis, Principal, BTG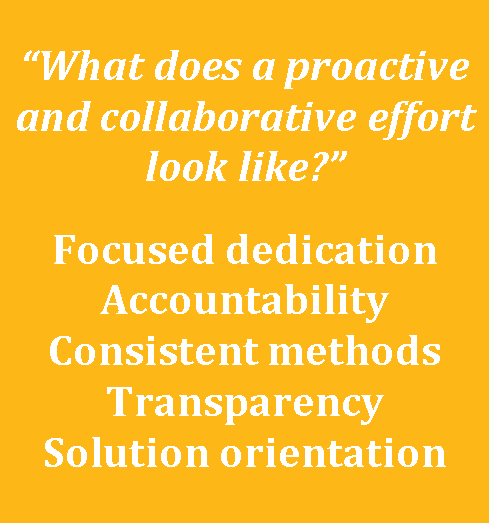 We view partnerships strategically. Our experience makes clear
that partnerships work when they are built on trust. To create a trusting environment some fundamentals need to be in place: focus, accountability, consistency, transparency and workable solutions.
Establish a Focused team effort on each project, allowing Civil Rights organizations to augment their staff with a dedicated team that can properly analyze and monitor progress.
Derive Accountability with routine, weekly discussions between the agency and contractor staff focused on successful solutions for the project and for the companies working on it, not just a commitment to the goal.
Use a Consistent methodology agreed upon among all key stakeholders, that has proven to be reliable and is understood across the partnership.
Maintain Transparency with a comprehensive and consistent process that has no hidden agendas. This can be achieved with consistent communication and by addressing conflicts directly and openly.
Create this environment with a turnkey Solution allowing executives to see, at any point in time, what the project status is, enabling them to address concerns at a moment's notice.
 The Benefits of this Approach are Clear and Proven

The I-495 Express Lanes project was the first Billion-dollar P3 project in Virginia. BTG was requested by the client to assist in meeting the most significant goal Virginia had ever required on a P3 project.  The partnership and collaborative approach BTG helped to create on this project resulted in many significant accomplishments.  One of which included over 200 contracts to small businesses.  The chart shows how the investments made by the Virginia Department of Transportation in BTG's efforts paid off by producing over 1,500 jobs, costing less than $900 per job created.

The District Department of Transportation (DDOT) 11th Street Bridge Project was a D/B.  Being the largest and first river-bridge replacement in the District of Columbia in more than 40 years, it was highly visible. The project experienced challenges prior to BTG's arrival.  We set the groundwork for small business participation by establishing a dedicated team that led the effort of weekly communication and collaboration between the agency and contractor, increasing participation immediately.  We also formed a DBE Steering Committee to maintain a strategic focus on results.  Over 20% of the project was awarded to small and disadvantaged businesses.  All political and executive stakeholders were well informed of the project's progress, therefore managing all political concerns successfully.

Virginia's Elizabeth River Crossings (ERC) P3 project extends the Martin Luther King Boulevard Expressway, replaces Midtown Tunnel and rehabs the Downtown Tunnel.  This project is also seen as a success because it has requirements of inclusion in the design, build and operation and maintenance phases of the project.  Again, the approach of a focused, dedicated team and a consistent and proven approach has produced significant results.
This approach also reduces project risk by maintaining an understanding of the capabilities and types of small businesses in the community, consistently communicating with them about individual opportunities, educating them on the risks associated with the project, and tracking their performance.  This builds trust and confidence among all stakeholders.
 Summary
Proper delivery of these benefits requires commitment from leadership and other key stakeholders at the beginning stages of project development. Civil Rights and other Inclusion representatives must be involved early in the process, providing engineers, financial specialists and other decision-makers insight and guidance to insure project success. A program management partnership team with dedicated resources, the right skills and technology, and an eye on results are all essential. A strategic mindset for inclusion programs is vital to project success short term, and empowering communities economically, long term.